This listing is for a vintage lab created emerald ring. Please note that this ring is not a natural emerald, it is lab created. The ring is set in 10 K yellow gold. It is stamped 10K gold inside the band. This is not a plated, or filled ring. This is not a new ring. I bought this ring at the Brimfield flea market around 15 years ago. The dealer I bought it from said it was from an estate, so it was not new when I bought it, but I don't think it is much older than that. Being a lab created stone and 10 K gold, as opposed to 14 K gold, this is not a fine piece of jewelry, although it is still nice, in my opinion. I have never worn the ring, but only because it was too small for me. I was going to have it sized up, and never got around to it. I bought it because I loved the bright green color of the stone. I never knew what the stone was, and I brought it to several jewelry stores to ask what it was, and most of the jewelry store employees thought it was a lab created emerald. Please note that the employees at the jewelry store were giving me their opinion on what it was; the stone was not tested. Every one of them commented on how pretty the stone was. I was very surprised to be told it was a lab created emerald, as I did not know that lab created stones were made back then, but I was told they have been being made for a long time. I had them measure the finger size of the ring, and they measured it at 5.75. The stone is small, but pretty. It measures approximately 2/16 of an inch across, so it is a small stone. It is a bright and sparkly bright medium green color, similar to a shamrock green. The color is not as light as it looks in the listing photograph. The green of the stone looks good with the yellow gold of the band. The stone is set in a 4 prong setting, as can be seen in the photo showing the side view of the ring. The setting is very plain and simple, so it does not detract from the color of the stone. There are some very light scratches on the band, such as gold normally gets while being worn. They are not very noticeable in my opinion. I saw them while looking at the ring under a bright light. In my opinion, most people wouldn't notice them. They could be easily buffed out by jewelry for a nominal fee. I have always loved green stones, and this ring would be good for someone else who does too. Smoke and pet free home. Please email if you would like more photos. Buyer to pay insured, priority shipping, and I only charge for actual shipping costs. I am unable to accept returns, so please do not bid if you are not sure you want the item. Thank you.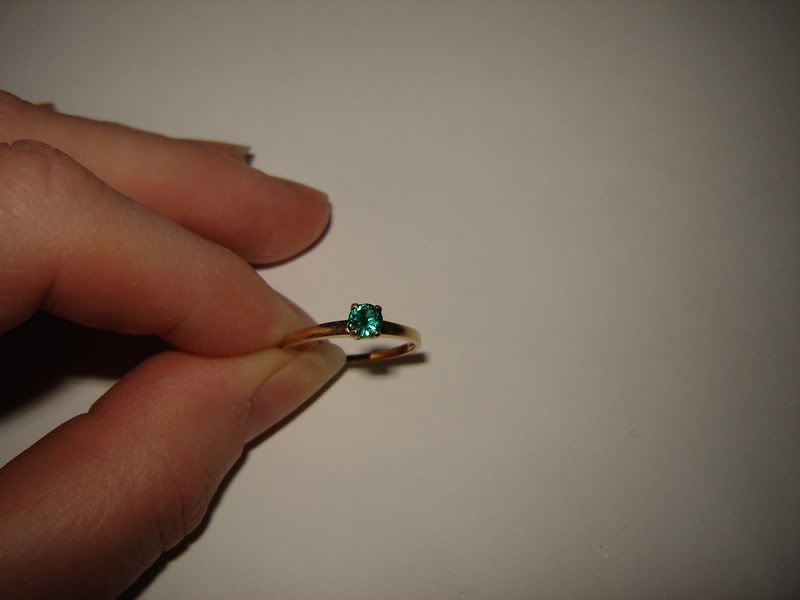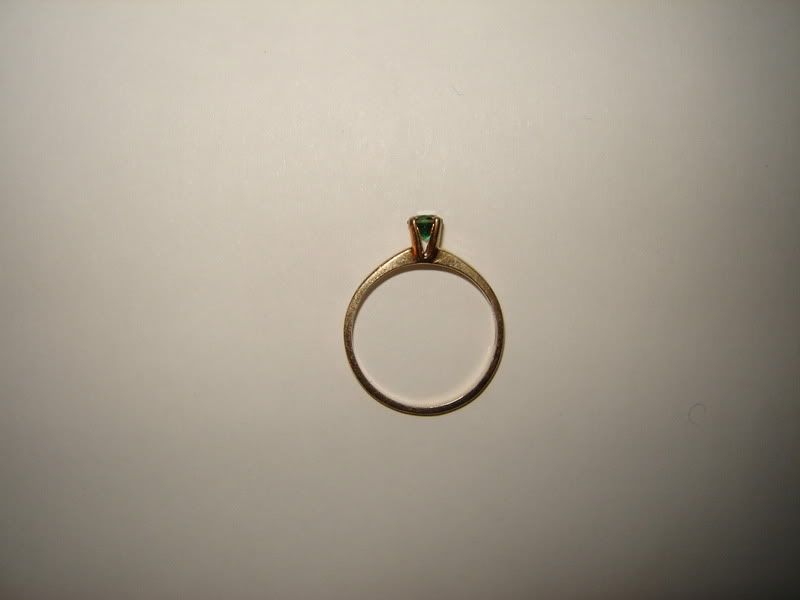 PayPal


Other payment (Cash, Check, Money Order) see Seller's Policy





"Guppy242" has put this item on hold.







Please send any questions or offers using the contact seller button. I check email every day.

Smoke and pet free home.

Paypal, or money orders accepted. Buyer to pay priority shipping. All items are shipped through the United States Postal Service.


All Paypal sales will be to confirmed addresses only, with no exceptions. If paying by Paypal, please note that I can only ship to the confirmed address on the Paypal account, not an alternate address.


Any payments received on which the address on the invoice does not match the paypal address will be refunded, and the sale cancelled.


On any payments received that do not include shipping charges, the payment will be refunded, and the sale cancelled.


I am unable to accept returns, so please do not purchase if you are not sure you want the item.


I take offers on most items, so please make an offer, or contact me if you are interested in an item. Thank you!
Flag this ad: miscategorized, prohibited, spam