Decorative Mini Collectible Cow Figurine Taxi Cow by artist William Melton ~ Cow Parade Character Collectibles ~ Retired
Orange N.Y.C. Taxi Cow. This guy has checks down the side and the fare chart posted on his neck. He even has tail lights and sports silver horns. Collectible Cow Figurine by CowParade 2000. Detailed hand painting is evident on this cute little collectible. She (has udders) stands about 3 inches tall , is about 1-1/2 inches long at the feet with a 3 inches over all length and is about 1 inch wide. The artist on this retired cow was William Melton sponsored by Giambelli 50th Restaurant

"CowParade is the world's largest public art event. From Chicago and New York in 1999 and 2000 to Kansas City and Houston in 2001 and London in 2002, CowParade continues to evolve, not just in size, but in creativity and quality of art. While the cow sculptures remain the same, each city's artists are challenged by the art from past events, inspired by the cultural influences of their respective cities, and moved by their own interpretation of the cow as an art object."

"CowParade is not meant to be high art, however. It is first and foremost a public art exhibit that is accessible to everyone. Most important, CowParade ultimately benefits charity. At the conclusion of each event, the cows are herded up and many are auctioned, with a substantial portion of the proceeds benefiting charity. Our Chicago auction raised an amazing $3,000,000.00 for charity, including $1.4 million on-line and $2.1 million at the live auction assisted by Sotheby's. The average bid price on the 140 cows was nearly $25,000, with the top cow, HANDsome, selling for $110,000. The CowParade New York 2000 Charity Auction raised an equally impressive $1,351,000.00 benefiting several New York City charities. The highest winning bid was $ 60,000, for Tiffany Cow. The average bid was $ 18,257."

This would make an excellent addition to a collection.(or the start of one!)

Inspired by an exhibition that made its debut in Zurich, Switzerland in 1998, CowParade has hit American! This exhibit brings life-size fiberglass cows, designed and painted by professional and amateur artists, alive with price in each host city. A selection of cows is sponsored and, at the end of the exhibition, is auctioned off to support various charities benefiting children, the arts and eduction.
When ordering multiple items please wait for an adjusted invoice.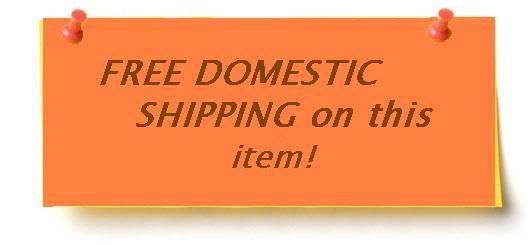 Gladly accepting APO and International orders!




http://cdn.stumble-upon.com/images/badgeStumble.png

All Material ~ Copyright © All Rights Reserved 2009-2011 WGS, Inc.



Click here to email us any questions
| | |
| --- | --- |
| | "WeaversGeneralStore" has put this item on hold. |
PLEASE NOTE THAT DUE TO HEALTH ISSUES THIS STORE IS TEMPORARILY CLOSED. THANKS FOR YOUR UNDERSTANDING.
We gladly accept Pay Pal, Google Check Out, Amazon, Alert Pay, Money Bookers, Revolution Money Exchange, Personal Checks and Money Orders.
Also gladly accepting International and APO orders!
Items will be shipped within 48 hours of cleared payments 5 days per week, excluding Holidays and weekends. Orders ship via USPS. Delivery Confirmation and insurance are included at no additional charge.
International orders always welcome. Free Shipping ONLY applies to orders shipped in the U.S. Please contact me for shipping costs on International orders as there may be an additional charge depending on the item size, weight and your location.
All items shown are on hand so are available for immediate shipping.
If you are purchasing an item as a gift we are more than happy to wrap and forward it for you. Just let us know. There will be a small additional charge for this service as gift wrapped packages require double boxing.
Multiple items purchased together and shipped to the same location are eligible for a discount. Please wait for a revised invoice when ordering multiple items.
SHIPPING COSTS FOR TRADING CARDS
Single Card Price of $1.40 includes Shipping ($.45/card + $.95 Shipping)
2-5 Cards = $.45/card + $.95 Shipping (example: 3 cards x .45 = $1.35 + $.95 Shipping = $2.30 total owed)
6 - 10 cards = $.35/card + $1.50 Shipping
11 - 15 cards = $.35/card + $2.20 Shipping
16 - 20 cards = $.25/card + $2.60 Shipping
21 -25 cards = $.45/card + $2.80 Shipping
26 - 30 cards = $.25/card + $3.00 Shipping
We offer a 100% SATISFACTION GUARANTEE! If you are not happy, neither are we. Contact us and arrange to return your item for a full refund (less return shipping costs unless mutually agreed upon) within 2 days of receipt of your item/s.
Click here to email us any questions
Flag this ad: miscategorized, prohibited, spam