Professor Swim Vest - Ages 4 to 8 Year - New - Inflatable


Professor Swim Vest by Sunco is an excellent teaching tool and confidence builder for your young swimmer. This has an inflatable collar, adjustable strap, buckle fasteners and 3 air chambers including and inflatable collar. This is about 20 inches when inflated. It is yellow and blue and suitable for either a boy or girl.

CAUTION: This is NOT a lifesaving device. This product is intended for recreational and learning purposes. Please take precautions to make the pool or water safe for children. No product can take the place of competent adult supervision. Never leave children alone while in the water.

Made by Sunco Products, Inc., Industry, CA 91744. This is new, still sealed in the box.

As with all items involving children this has been check on the Consumer Product Safety Commissions website for recalls. http://www.CPSC.gov/

When ordering multiple items please wait for an adjusted invoice.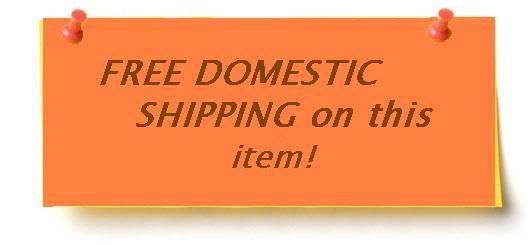 Gladly accepting APO and International orders!




http://cdn.stumble-upon.com/images/badgeStumble.png

All Material ~ Copyright © All Rights Reserved 2009-2011 WGS, Inc.



Click here to email us any questions
| | |
| --- | --- |
| Other payment (Cash, Check, Money Order) see Seller's Policy | "WeaversGeneralStore" has put this item on hold. |
PLEASE NOTE THAT DUE TO HEALTH ISSUES THIS STORE IS TEMPORARILY CLOSED. THANKS FOR YOUR UNDERSTANDING.
We gladly accept Pay Pal, Google Check Out, Amazon, Alert Pay, Money Bookers, Revolution Money Exchange, Personal Checks and Money Orders.
Also gladly accepting International and APO orders!
Items will be shipped within 48 hours of cleared payments 5 days per week, excluding Holidays and weekends. Orders ship via USPS. Delivery Confirmation and insurance are included at no additional charge.
International orders always welcome. Free Shipping ONLY applies to orders shipped in the U.S. Please contact me for shipping costs on International orders as there may be an additional charge depending on the item size, weight and your location.
All items shown are on hand so are available for immediate shipping.
If you are purchasing an item as a gift we are more than happy to wrap and forward it for you. Just let us know. There will be a small additional charge for this service as gift wrapped packages require double boxing.
Multiple items purchased together and shipped to the same location are eligible for a discount. Please wait for a revised invoice when ordering multiple items.
SHIPPING COSTS FOR TRADING CARDS
Single Card Price of $1.40 includes Shipping ($.45/card + $.95 Shipping)
2-5 Cards = $.45/card + $.95 Shipping (example: 3 cards x .45 = $1.35 + $.95 Shipping = $2.30 total owed)
6 - 10 cards = $.35/card + $1.50 Shipping
11 - 15 cards = $.35/card + $2.20 Shipping
16 - 20 cards = $.25/card + $2.60 Shipping
21 -25 cards = $.45/card + $2.80 Shipping
26 - 30 cards = $.25/card + $3.00 Shipping
We offer a 100% SATISFACTION GUARANTEE! If you are not happy, neither are we. Contact us and arrange to return your item for a full refund (less return shipping costs unless mutually agreed upon) within 2 days of receipt of your item/s.
Click here to email us any questions
Flag this ad: miscategorized, prohibited, spam