SET OF 4 THE FOLGER LIBRARY SHAKESPEARE BOOK




1946-1968 SET OF 4 PAPERBACK BOOKS FOLGER LIBRARY GENERAL READERS "SHAKESPEARE".
THESE BOOKS ARE DISIGNED TO MAKE SHAKESPEARE'S CLASSIC PLAYS AVAILABLE TO THE GENRAL READER,EACH EDITION CONTAINS A RELIABLE TEXT WITH MODERNIZED SPELLING AND PUNCTUATION,SCENE-BY-SCENE PLOT SUMMARIES,AND EXPLANATORY NOTES.
1. OTHELLO
2. THE MERCHANT OF VENICE
3. HAMLET
4. A MIDSUMMER NIGHT'S DREAM
TWO OF THE BOOKS HAS WRITING ON SOME PAGES "NOTES" FROM OWNER BUT DOES NOT EFFECT THE BOOK.


---



EMAIL ME WITH ZIP CODE TO GET SHIPPING COST, PAYMENT DUE WITHING 10 DAYS OF PURCHASE.

(PLEASE) DO NOT PAY THOUGH PAYPAL UNTIL YOU GET YOUR INVOICE FROM ME. (PAYMENT) I EXCEPT PAYPAL,MONEY ORDERS,BIDPAY,CASHIERS CHECK,PERSONAL CHECKS TAKE 10 DAYS TO CLEAR. (TO INSURE ITEMS) US $1.30 UP TO $50.00,$2.25 UP TO $100.00. (FOR INTERNATIONAL) $1.85 UP TO $50.00,$3.00 UP TO $100.00. (DELIVERY CONFIRMATION) PRIORITY MAIL $.45,PARCEL POST $.55. (SHIPPING) IF YOU WANT SHIPPING COST PLEASE FEEL FREE TO EMAIL ME AND GIVE ME YOUR ZIP CODE.THERE IS A $.50 HANDLING FEE ADDED ON TO THE SHIPPING COST SOMETIMES MORE IF I HAVE TO USE SPECIAL PACKAGING,I ALSO COMBINE SHIPPING TO SAVE YOU COST,I WILL SHIP TO SAVE YOU THE MOST MONEY. (REFUND) IF ITEM ISN'T AS DESCRIBED I WILL GIVE FULL REFUND AFTER ITEM IS SENT BACK TO ME. EVERYTHING SOLD AS IS!!



---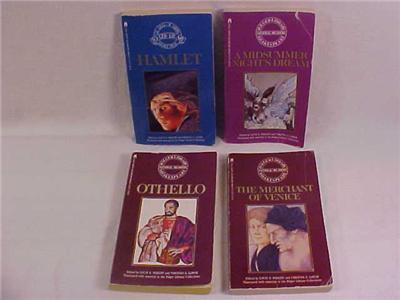 Google
PayPal


Other payment (Cash, Check, Money Order) see Seller's Policy




(New) Google Checkout: if you want to use Google checkout I can send you and invoice from Google Checkout with your total with your S&H and then you can go head and pay with google checkout, or contact me for cost before purchasing or for combine shipping cost.
NOTE: If you chose to use the blujay invoice for paypal or other payment type! I will send you and update invoice with shipping cost added to the invoice. please donot pay until you receive your invoice form me with S&H added to it!! if you buy more then one item I will combine shipping!!
Payment must be made within 10 days of purchase.
(Payment) I accept paypal, google checkout, money orders, personal checks, cashier checks.Contact me with your zip code and I will calculate your cost, shipping based on zip code.
Shop in my blujay stores
blujay store #2

Visit my bluajy store #2
http://debsgreatfinds2.blujay.com
blujay store #1
Visit my blujay store #1
http://debkwek.blujay.com
Flag this ad: miscategorized, prohibited, spam