Round Trough or pot, about 20" in Diameter $39.00, shipping weight about 22 pounds

All our Troughs are priced in a natural finish, Acid staining is an extra $20.00, email to see if I have one in stock, each Trough, Pot, or container, is hand made and can take up to 3 weeks to cure, and leach out. Each Trough, pot or Fountain will weigh and look different, no two are ever the same, each a work of art. You design your Own Garden, Gardens can be purchase complete, or we can help you design, and Stain your own at no extra charge. Price of complete Gardens depends on detail. Allow three to four weeks to make, if not in stock, email for shipping, size, and weight, they differ with each design.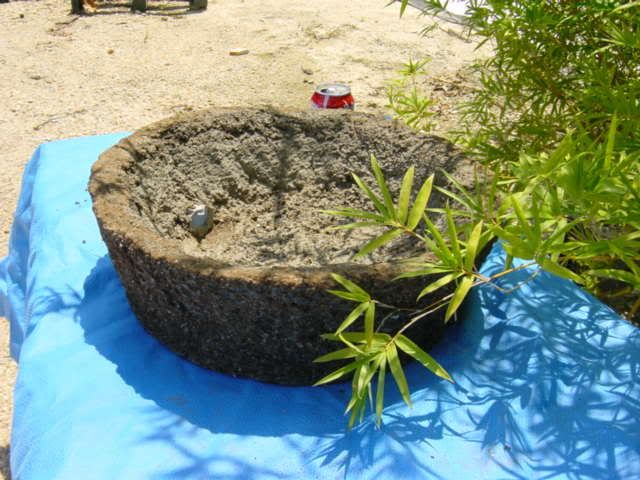 I do combine shipping to save shipping cost, I'm Downsizing my inventory and Liquidating a lot of items I will be posting more as time permits. Please scroll down to view other photos if posted Check out my other items!
INSURANCE RECOMMENDED, AND IS EXTRA,  I CANNOT BE RESPONSIBLE FOR LOSSES.
ALL PAYMENTS MUST BE MADE TO RON COSTANZA PAY BY PAY PAL, USPS MONEY ORDERS SHIP SAME DAY BECAUSE OF HIGH INCIDENCE OF FRAUD ALL PERSONAL CHECKS OR OTHER MONEY ORDERS WILL TAKE 10-14 DAYS OR UNTIL FUNDS CAN BE VERIFIED, SHIPPED WEDS. THROUGH SAT. ONLY
PLEASE ENCLOSE ITEM DESCRIPTION AND ITEM # W/PAY, I WILL COMBINE SHIPPING OR ITEMS MAY BE VIEWED OR PICKED UP AT MALL FOR FREE,
MAILED WEDS.- SAT. ONLY, THANKS FOR LOOKING AND PLEASE CHECK MY OTHER ITEMS OFFERED THIS WEEK, THANKS RON