Original Signed Fine Art Dual Lightning Strikes Nature Photography dreamlightart Dreamlight Art Gallery Texas Southwest Western Landscape Thunderstorm Artwork Wall Décor Signed Original Wall Art Décor Lightning Strikes Direct From The Artist Photographer William Werstler III Grandview Texas Ebay Seller Over 10 Years Resellers Storm Bolts of Lightning Bolt Rain Picture Photo Photograph Photography Print Litho Collectible Natures Painting Hill Country Landscapes Nighttime Southwest Southern Western Wilderness Night Nature Realism Modern Deco Perfect For Interior Design Decorating Commercial Residential Gift For Office Décor Business Livingroom Home Bedroom Den Study Unique Art Upc: 112262011035 id 4060354 email Dreamlightart AT Peoplepc DOT com Condition: New Product Type: "Art > Direct from the Artist > Paintings", "Art > Direct from the Artist > Prints", "Art > Direct from the Artist > Photographs", "Art > Direct from the Artist > Other", "Art > Art from Dealers amp&; Resellers > Paintings", "Art > Art from Dealers amp&; Resellers > Prints", "Art > Art from Dealers amp&; Resellers > Photographs", "Art > Art from Dealers amp&; Resellers > Other", "Art amp&; Entertainment > Collectibles", "Art amp&; Entertainment > Artwork > Photographs", "Art amp&; Entertainment > Artwork > Prints", "Framed Art", "Art Gallery", "Dreamlight Art", "Texas Artist", "Signed Original Art", "Original Signed Art" User-agent: Googlebot Disallow:

FREE PRIORITY MAIL SHIPPING
PLUS $5.00 OFF of the PURCHASE PRICE for EACH ADDITIONAL 5x7 ORDERED
& COMBINED SHIPPED to the SAME ADDRESS

Featuring Original
Nighttime Lightning Storm Photographic
Masterpiece
DUAL LIGHTNING
by William J. Werstler III (dreamlightart AT peoplepc DOT com)
5 x 7 Original Signed Photograph Directly from the Artist

Size of Artwork:..5 x 7
Signed:………….Signed
Subject:………....Lightning Rain Storm - Landscape Nature Wilderness
Type:……….…...Nighttime Lightning Storm Photography
Style:…………....Realism
Numbering:….….Unnumbered

A Sales Tax of 6.25% will be added to all items purchased in Texas

COMBINED SHIPPING REQUIREMENTS:
1. the items to be combined use similar shaped packaging
(since varied sizes of items may be purchased, please contact the seller to see if combined shipping is possible)
2. we are notified immediately of your request so we can hold your first shipment
3. the items are shipped together to a single address in the United States
4. the multiple purchases occur within a 2 day time period
5. payment for all items has been received

>NOTE: Receive $5.00 OFF EACH additional 5x7 photograph purchased when all items are shipped TOGETHER to the SAME address

SEND A GIFT TO OTHERS, IF
1. we are notified of the alternate address immediately after purchase
2. the alternate address is in the United States

CLICK HERE TO BUY THIS ITEM
Here is a Larger Picture of this Item [THE COPYRIGHT WATERMARK ONLY APPEARS ONLINE]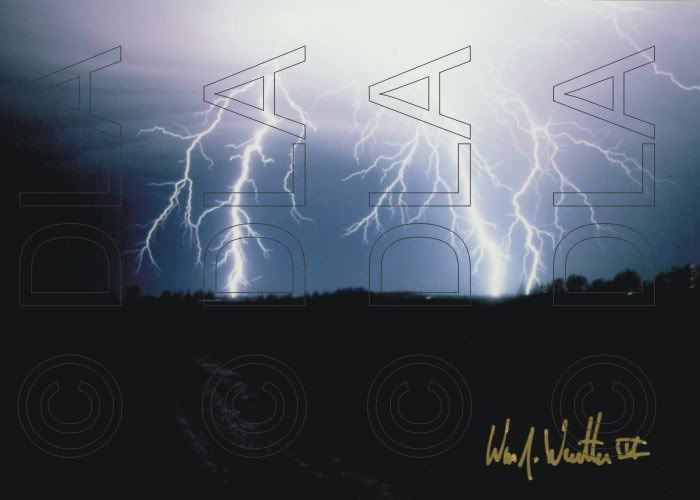 [/url] Click Here to ADD me to your Favorites


CLICK on the Collage Below to See Other Items for Your Home, Office, Birthday or Holiday Gift Collection
The artwork mentioned above may not be reproduced by any process whatsoever without the written permission of the artist or Dreamlight Art.
A Note from the Dreamlight Art Photographer:
"The message of my art is inspired by an inner urge that motivates my perception of LIFE."

My message is: "Our curious, playful explorations of ideas and creation will allow us to experience the spirit of LIFE directly, consistently leading us to experience LIFE beyond our moment-to-moment creation of reality thus far. I am enthralled with the beauty of nature and many times I have felt that I am experiencing a version of the same "moment of natural beauty" over and over... Living LIFE with a deep understanding of the precious, sacredness of each moment has expanded my appreciation of the gift of LIFE and being thankful, choosing happiness, and letting my strife subside allows me to experience many different moments during this artistic journey of loving LIFE. Today, my personal outlook overflows with love, hope, excitement, and fulfillment. Guide consistently, full of respect, with creative passion." William J. Werstler III

Click here to view LIMITED ADDITION PRINTS from other artist
such as: James Boren Tim Cox Penni Anne Cross Joseph Dawley Bruce Dines Bob Elgas Gerald Farm Bettie Felder David Halbach George Hallmark G Harvey Don McCauley Vel Miller Gary Niblett Robert Pummill Bill Shaddix Gordon Snidow and Robert Wagoner
Thank you for viewing this listing and have a great day.