1 SALVE
100 % NATURAL HEALING SALVE To hands and Feet
0. 6 OZ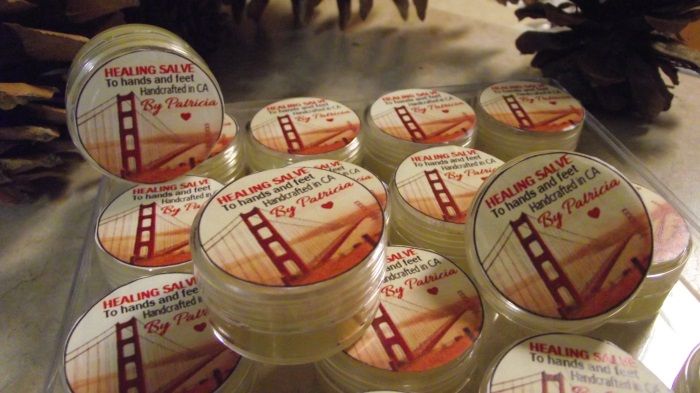 Description
This is a 100% Natural Organic HEALING SALVE
0.6 OZ
Handcrafted in California with Love By Me
Everything was made with a lot patience, dedication,
enthusiastic attitude, joy and a bunch of ❤
No Alcohol No Chemicals
Antibacterial Properties
NO artificial colors,
NO chemicals, are added, NO preservatives.
Ingredients
Organic Extra virgin olive oil
Natural Beeswax
Organic Extra Virgin coconut oil
Natural Tea tree oil
Natural Rosemary essential oil
Natural Lavender essencial oil
Natural Vitamin E oil
The most important ingredient L O V E ❤
Directions: Apply to hands and feet, and massage into dry skin. Also can be use on elbows. For external use only. Storage: Keep in cool, dry place.
Payment/Shipping/Terms
I accept Paypal only.
I OFFER FREE SHIPPING IN USA
Due to the nature of these products, returns/exchanges are not accepted.
If your item appears to be defective in any way, please contact me and I will resolve the matter immediately.
I will do everything possible to make it right!
My products are for external use only.
If you have medical concerns Or questions please consult your physician.
As with all bath and body products, consult your physician before using essential oils if you are pregnant or have other serious health concerns.
Please be sure to check the ingredients if you have any known allergies.
IMPORTANT NOTE:
LOGO OF MY PRODUCT IT'S AN ORIGINAL PICTURE TAKEN AND EDITED BY ME AND IT'S COPYRIGHTED.