Home > blujay stores > tizzyloucat's Store
| | | | |
| --- | --- | --- | --- |
| | Critter Corner | | by tizzyloucat ( 17 ) |
location:

Cape Coral, Florida, USA <-map this location

about me:

Critter Corner features unique animal-themed cookie jars, butter dishes, cups, mugs, teapots, salt and pepper shakers, napkin holders, and linens as well as collectible plates, figurines, and other decor for your home.

I have sold items on Ebay, Ecrater, IOffer, and Yahoo in addition to my two stores on Blujay. Be sure to visit PORCELAIN MELODIES, my other store on Blujay. Check my feedback and my web pages listed in the links for more information about me. Click the OPEN arrow below for more information about Critter Corner.

registered:

October 23, 2006

my link:

http://tizzylou.googlepages.com

WELCOME TO CRITTER CORNER!

Scroll to the bottom of the blue frame border and click on HIDE to close the store policies information.

New store categories are COMING SOON to make your shopping easier! Please pardon our construction for now!

Unique Critter Themed Collectibles, Giftware, Home Decor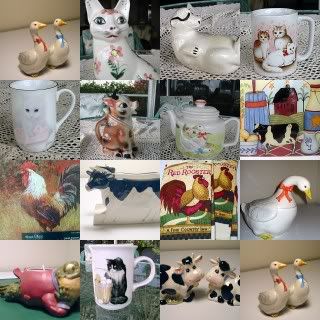 A place where animal lovers LOVE to shop!
Enjoy your visit to Critter Corner

Take a few minutes to browse through my collection of critters. You'll find cows, roosters, bears, cats, dogs, frogs and many other kinds of critters waiting to become a part of your home decor or your collection.

Pay with Paypal or through Google Checkout. I have merchant status with both. Your purchases are secure and I do not spam customers.

Add items to the cart and create an invoice. You are not billed until I accept the invoice. I will contact you when I am notified that you have created an invoice and will provide you with information regarding shipping, etc.


Secure Checkout and Prompt Shipping

Payment is due immediately upon my acceptance of the invoice you generate.

Shipping is via lowest cost available.

I combine shipping costs when you purchase more than one item.

Make an offer if you want to purchase a SET from one of the collections.

Shipment is made the first business day following notification that your payment has been processed.

I pack with care and insurance is included for items valued at more than $25.

Visit my WEB pages to learn more about me: THE GLASSWARE COTTAGE http://theglasswarecottage.com PORCELAIN MELODIES http://porcelainmelodies/googlepages.com

SHOPPING LINKS: REPEAT BOUTIQUE http://jeanchastain.ecrater.com PORCELAIN MELODIES http://blujay.com/tizzyloucat1 KITTY CORNER http://kittycorner.ecrater.com

Auction Template by DeSaCS.com
Home | Community | Help | About Us | Privacy Policy | Terms of Service | DMCA
All Rights Reserved by Blujay 100% Free Online Marketplace